Our Orchard Profile

SHV is the only listed opportunity for investors to participate in this market growth.
79% of Select Harvests ("SHV") current planted acreage is cash generative.
56% of SHV Planted Orchards are economically mature and in the sweet spot low capex & high cash generation
36% of SHV Planted Orchards will reach economic maturity progressively over the next 7 years
8% of SHV Planted Orchards will be replanted within the next 5 years
SHV orchard profile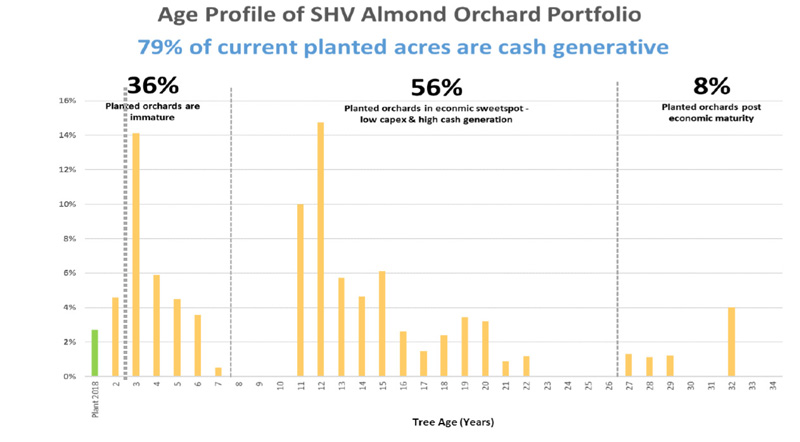 Please note: Information correct as at 28 August 2018.
Five Years of Growth in Total Planted Area


Managed orchards
Select Harvests manages orchards on behalf of third party investors. Our services include:
Orchard development
Horticultural services
Harvest services
Processing
Sales, marketing and distribution
Eight years of volume growth
The growth in the productive base of the company over the last 6 years through acquisitions, replanting and greenfields planting and operational yield improvements, now sees the company with 8 years of significant and consecutive almond kernel volume growth from 2017 to 2025.
Almond Orchard Summary
Select Harvests has a portfolio of orchards: owned, leased and managed, located in the Mallee (Victoria), Riverland (South Australia) and Riverina (NSW).
Figures below as at 30 June 2018.
Select Harvests
Almond Orchard Portfolio
Planted
Under Development
Total
Acres
Hectares
Acres
Hectares
Acres
Hectares
Central Region
Company Owned
4,183
1,693
-

-

4,183
1,693
Leased
2,909
1,177

513
208

3,422
1,385
Total
7,092
2,870
513
208

7,605
3,078
Northern Region
Company Owned
1,797
727

-

-

1,797
727

Leased
3,017
1,221
-
-
3,017
1,221
Total
4,814
1,948
-

-
4,814
1,948
Southern Region
Company Owned
2,723

1,102

-
-
2,723

1,102
Leased
3,828
1,549
-
-
3,828
1,549
Total
6,551

2,651
-
-
6,551
2,651
Total
Company Owned
8,703

3,522

-

-

8,703

3,522

Leased
9,754

3,947

513
208
10,267

4,155

Total
18,457
7,469
513
208
18,970
7,677